Air conditioning Toorak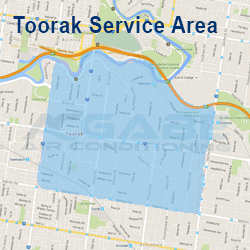 Are you looking for a prompt, experienced domestic, commercial or industrial air conditioner mechanic in Toorak? AC Gabe provides you with the best air conditioning solutions, whether it is heating, cooling or ventilation.
Call AC Gabe Air Conditioning Toorak on 1300 224 223
We can assist you with all your domestic, commercial and industrial air conditioning service needs as we service all makes and models.
We only supply and install technically advanced, high quality systems, such as Mitsubishi, Fujitsu, LG, Daikin, Panasonic, Temperzone air conditioners … etc. , what are the best on the market, so you don't need to worry about the temperature any more in your commercial or industrial premises, whether it is a small store, a private school, an office, or hospital, or a large industrial building. AC Gabe is one of the highly recommended air conditioning installation experts in Toorak.
If you need a quick air conditioning service or repair in Toorak, we are here to help you. We can quickly diagnose and repair any problem what you are experiencing with your heating, cooling or ventilation system. We always clearly identify the problem and the possible solutions, and give you detailed quotation before we proceed the job, so there are no hidden costs with us.
Our commercial services include but limited to:
Commercial Air Conditioning Installation Toorak
Commercial Air Conditioning Service and Repair Toorak
Commercial Air Conditioning Maintenance, Toorak
Commercial Air Conditioning Preventative Maintenance Toorak
Commercial Precision Air Conditioning Toorak
Commercial Ventilation Systems Toorak
Commercial Air Conditioning Controls Toorak
Commercial Heating Systems, Hydronic and Underfloor Heaters Toorak
Commercial Air Balancing Toorak
Commercial Air Conditioning 24/7 Emergency Services Toorak
AC Gabe Air Conditioning commercial preventative maintenance plan' goal is to help maintain and extend the life of your HVAC (heating, ventilation and cooling) equipment so you can make sure that all work performed by us is done at a highest possible standard. With us you can save money, enjoy the optimum air comfort and last but not least your staff members and clients can experience the best cooling or heating operations in a healthy work environment in Toorak.
To make you even more satisfied we provide 24/7 emergency services for all our highly valued commercial customers. You can call us anytime, we will be there in a short time period! It means you don't need to worry anymore; we take the weight off your shoulders.
Our residential services include but not limited to:
Split System Air Conditioning Toorak
Reverse Cycle Air Conditioning Toorak
Ceiling Cassette Air Conditioning Toorak
Bulkhead Air conditioning Toorak
Evaporative Cooler Toorak
Ducted Heater Toorak
Hydronic and Underfloor Heater Toorak
Ventilation Systems Toorak
With us you can experience five star air conditioning services in Toorak. For all your commercial heating, ventilation and cooling needs AC Gabe is the answer. Give us a call now on 1300 224 223, or fill out one of our online forms and we will contact you as soon as possible.