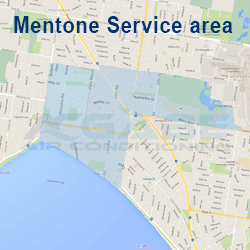 With any of your heating, cooling and ventilation needs, concerns, or queries, call AC Gabe Air Conditioning Mentone on 1300 224 223.
We carry out air conditioning service, repairs, installation and maintenance on all HVAC (heating, cooling and ventilation) systems in Mentone, whether it is in domestic, commercial or industrial sector.
There are some common problems, such as system is not operating properly, noise coming from the return air grill, unpleasant odour coming from it, or it is leaking …etc. could be very frustrating. If you are experiencing one of these, of any other problems with your air conditioner in Mentone, do not hesitate to contact AC Gabe Air Conditioning for assistant. Our experienced professionals are always at your disposal. We can help you with any of your air conditioner needs as we service all makes and models in Mentone. We are able to identify the root causes of the problems and then provide you with the proper repair solution to fix them. In addition with our air conditioning maintenance program in Mentone you can keep the major repair cost at the minimum.
AC Gabe is one of the best domestic, commercial or industrial mechanical contractors in Mentone.
Our residential services include but not limited to:
Split System Air Conditioning Mentone
Reverse Cycle Air Conditioning Mentone
Ceiling Cassette Air Conditioning Mentone
Bulkhead Air conditioning Mentone
Evaporative Cooler Mentone
Ducted Heater Mentone
Hydronic and Underfloor Heater Mentone
Ventilation Systems Mentone
HVAC (heating, ventilation and cooling) is important in the design of small to large offices and industrial buildings as well as private homes too. A well installed air conditioners' goal is to provide thermal comfort, humidity control and acceptable indoor air quality for all or part of a building. Whether you live in a big house, in a small unit, or working in a childcare centre, school, hospital, warehouse, or in restaurant, AC Gabe Air Conditioning Mentone is the best answer for all your needs. We install only high quality systems, such as Daikin, LG, Mitsubishi, Temperzone, Fujitsu, Carrier, Panasonic … and any other technically advanced air conditioners in Mentone to make our valued customers 100 % satisfied. If you choose AC Gabe Air Conditioning heating and cooling installation experts, you can make sure that you will enjoy the optimum air comfort and quality. From design through installation, to further necessary maintenance, you can count on AC Gabe Air Conditioning Mentone professionals. Call us now for a free site visit, consultation and quotation on 1300 224 223.
Our commercial services include but limited to:
Commercial Air Conditioning Installation Mentone
Commercial Air Conditioning Service and Repair Mentone
Commercial Air Conditioning Maintenance, Mentone
Commercial Air Conditioning Preventative Maintenance Mentone
Commercial Precision Air Conditioning Mentone
Commercial Ventilation Systems Mentone
Commercial Air Conditioning Controls Mentone
Commercial Heating Systems, Hydronic and Underfloor Heaters Mentone
Commercial Air Balancing Mentone
Commercial Air Conditioning 24/7 Emergency Services Mentone
Our motto is high level of workmanship with high quality finish. That's what AC Gabe Air Conditioning offers you in Mentone.
Call Ac Gabe now on 1300 224 223, or alternatively fill out one of our online contact forms and we will get back to you as soon as possible.