Air Conditioning Hawthorn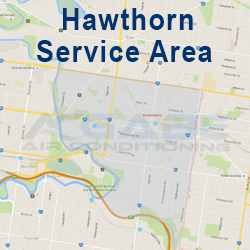 With any of your residential or commercial heating cooling and ventilation needs, call AC Gabe Air Conditioning Hawthorn today on 1300 224 223.
AC Gabe Air Conditioning skilled, licenced professionals are always at your disposal. As we provide heating and cooling services in Hawthorn, with us you can keep warm during freezing cold days, and/or keep cold on warm summer days. We install high quality air conditioning systems, such as Panasonic, Lennox, Mitsubishi, Daikin, Temperzone, Fujitsu and other leading systems. A properly sized unit can provide optimum thermal comfort and better air quality, but with an undersized or oversized air conditioning system you will never experience the perfect temperature. It means that the heating and cooling systems' size is truly matter. Call AC Gabe Air Conditioning installation specialist in Hawthorn for free site visit, consultation and quotation, for proper advice and excellent air conditioning services, 1300 224 223.
If you are looking for a trustworthy, qualified, licensed HVAC (heating, ventilation and cooling) contractor in Hawthorn, you came to the right place. All work performed by AC Gabe Air Conditioning Hawthorn is done at the highest possible standard, whether it is a domestic or commercial air conditioning service, repair or maintenance. We can assist you with all your air conditioning needs.
Our residential services include but not limited to:
Split System Air Conditioning Hawthorn
Reverse Cycle Air Conditioning Hawthorn
Ceiling Cassette Air Conditioning Hawthorn
Bulkhead Air conditioning Hawthorn
Evaporative Cooler Hawthorn
Ducted Heater Hawthorn
Hydronic and Underfloor Heater Hawthorn
Ventilation Systems Hawthorn
Our commercial customers can enjoy our 24/7 emergency services and choose from our specific commercial air conditioning maintenance programs specialised for you and your system's needs in Hawthorn. Did you know that a properly maintained air conditioner can provide better air quality, can decrease allergies and asthma – that may can be caused by a poorly maintained air conditioner? Don't risk it. Call for a professional help, AC Gabe Air Conditioning Hawthorn, 1300 224 223.
Our commercial services include but limited to:
Commercial Air Conditioning Installation Hawthorn
Commercial Air Conditioning Service and Repair Hawthorn
Commercial Air Conditioning Maintenance Hawthorn
Commercial Air Conditioning Preventative Maintenance Hawthorn
Commercial Precision Air Conditioning Hawthorn
Commercial Ventilation Systems Hawthorn
Commercial Air Conditioning Controls Hawthorn
Commercial Heating Systems, Hydronic and Underfloor Heaters Hawthorn
Commercial Air Balancing Hawthorn
Commercial Air Conditioning 24/7 Emergency Services Hawthorn
We provide proper care to all HVAC equipment and preventive maintenance in all types of residential, commercial and industrial establishments, regardless of the size of your building in Hawthorn. Private homes, small stores, hospitals, universities, supermarkets or large industrial buildings are all welcome. We can assist with commercial tenders, projects as well.
Finding the best air conditioning contractor can be a challenge. Only the experienced, highly trained, licensed technician can provide high quality air conditioning services. With AC Gabe Air Conditioning you can make sure that your system is in good hands.
Call one of the best domestic, commercial and industrial mechanical contractors in Hawthorn. Call AC Gabe Air Conditioning Hawthorn on 1300 224 223, or fill out one of our online forms, and we will contact you as soon as possible.