Air Conditioning Burwood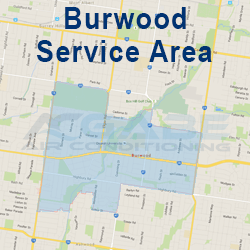 Call AC Gabe Air Conditioning Burwood on 1300 224 223, your domestic, commercial and industrial air conditioning specialist.
AC Gabe can offer five star air conditioning services, high level customer services, and excellent professional solutions in Burwood.
AC Gabe Air Conditioning highly trained professionals are able to quickly identify the problem, then fix it in a reasonable time, or provide better solutions, if the repair would be too costly or impossible. As we service all makes and models, we can help you with any of your air conditioning needs in Burwood.
There are many different types of air conditioners on the market. To find the best one that suits you, your building' needs and last but not least your budget, it's not easy at all. Whether you are looking for a split system, a ducted heating and cooling unit, or bulkhead air conditioner, or maybe a cassette unit, we are able to help you. We install industry leading systems, such as LG, Daikin, Fujitsu, Mitsubishi, Panasonic, and other technically advanced air conditioners in Burwood. Our air conditioner installation specialist can provide you free site visit, consultation and quotation. Call AC Gabe Air Conditioning Burwood on 1300 224 223.
Our goal is to build long lasting relationship with our customers and make them 100% satisfied.
Our residential services include but not limited to:
Split System Air Conditioning Burwood
Reverse Cycle Air Conditioning Burwood
Ceiling Cassette Air Conditioning Burwood
Bulkhead Air conditioning Burwood
Evaporative Cooler Burwood
Ducted Heater Burwood
Hydronic and Underfloor Heater Burwood
Ventilation Systems Burwood
With properly done air conditioning maintenance AC Gabe Air Conditioning helps maintain and extend the life of any type of domestic and commercial HVAC (heating, ventilation and cooling) equipment in Burwood. With our commercial air conditioning preventative maintenance program you can keep the major repair costs and the unexpected downtimes at the minimum, save money and provide better air quality. Although random failure can occur infrequently, but in this case we provide 24/7 emergency service in Burwood area, so you can call us anytime, we will be there in a short time period!
Our commercial services include but limited to:
Commercial Air Conditioning Installation Burwood
Commercial Air Conditioning Service and Repair Burwood
Commercial Air Conditioning Maintenance Burwood
Commercial Air Conditioning Preventative Maintenance Burwood
Commercial Precision Air Conditioning Burwood
Commercial Ventilation Systems Burwood
Commercial Air Conditioning Controls Burwood
Commercial Heating Systems, Hydronic and Underfloor Heaters Burwood
Commercial Air Balancing Burwood
Commercial Air Conditioning 24/7 Emergency Services Burwood
We pride ourselves on being one of the highly recommended residential, commercial and industrial heating, cooling and ventilation specialists in Burwood.
Do not hesitate to call AC Gabe Air Conditioning Burwood on 1300 224 223 for the best advice or professional solution. Alternatively you can fill out one of our online forms and we will get back to you as soon as possible.