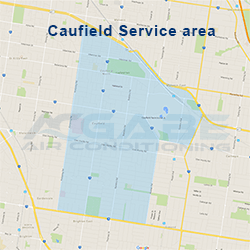 AcGabe Air Conditioning Caulfield, Caulfield North, Caulfield South. Call us now on 1300 224 223
If you are looking for an experienced, trustworthy, polite heating, ventilation and cooling expert in Caulfield, AC Gabe Air Conditioning is the answer. With 25 years of experience in the HVAC industry we pride ourselves on delivering the best air conditioning services. Our highly trained professionals can assist you with every domestic or commercial air conditioning needs in Caulfield. No matter whether you live on a farm, in a big house or a small unit, or own a restaurant, a private hospital, or a school, AC Gabe can provide you five star air conditioning services.
Need a quick air conditioning service or repair in Caulfield? We are here to help you. We can quickly diagnose and repair any problem what you are experiencing with your system. We always clearly identify the problem and the possible solutions, and give you detailed quotation before we proceed the job, so there are no hidden costs with us.
Our team service high quality systems, including but not limited to Daikin, Fujitsu, Mitsubishi, Panasonic, LG, Temperzone air conditioning systems, what are the best on the market. We value your time, your place, your needs, and your budget.
We can also assist you with your air conditioning installation needs in Caulfield. With AC Gabe you will experience high level of workmanship with high quality finish. But we won't leave you alone after the work done. We will offer you preventative maintenance plan, because our goal is to provide ongoing support and build long lasting relationship with our lovely customers. AC Gabe technicians proudly have the expertise to make sure your air conditioning systems are well maintained, so they are less likely to break down when you need them the most.
You won't find better domestic or commercial HVAC (heating, ventilation and cooling) company in Caulfield. Reward your business with AC Gabe professionalism. All work performed by AC Gabe Air Conditioning in Caulfield is done at the highest possible standard.
We provide our valued commercial customers a unique, detailed maintenance agreement contract, in addition 24/7 emergency services, to make you more satisfied.
Do not hesitate to call us on 1300 224 223, or fill out one of or online forms to schedule a free consultation and site visit with us.
Our commercial services include but limited to:
Commercial Air Conditioning Installation Caulfield
Commercial Air Conditioning Service and Repair Caulfield
Commercial Air Conditioning Maintenance, Caulfield
Commercial Air Conditioning Preventative Maintenance Caulfield
Commercial Precision Air Conditioning Caulfield
Commercial Ventilation Systems Caulfield
Commercial Air Conditioning Controls Caulfield
Commercial Heating Systems, Hydronic and Underfloor Heaters Caulfield
Commercial Air Balancing Caulfield
Commercial Air Conditioning 24/7 Emergency Services Caulfield
Our residential services include but not limited to:
Split System Air Conditioning Caulfield
Reverse Cycle Air Conditioning Caulfield
Ceiling Cassette Air Conditioning Caulfield
Bulkhead Air conditioning Caulfield
Evaporative Cooler Caulfield
Ducted Heater Caulfield
Hydronic and Underfloor Heater Caulfield
Ventilation Systems Caulfield
AC Gabe Air Conditioning is a highly recommended domestic, commercial and industrial mechanical contractor in Caulfield. You can experience first class cooling, heating and ventilation services with us.
Call AC Gabe for professional help on 1300 224 223!