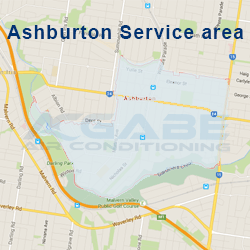 Call ACGabe Air Conditioning Ashburton now. 1300 224 223
Do you need a prompt, experienced domestic or commercial air conditioner mechanic in Ashburton?
AC Gabe provides you with the best air conditioning solutions, whether it is heating, cooling or ventilation.
AC Gabe professional staff members participate in regular training programs to have up to date knowledge about the relevant Australian legislations, regulations, standards and safety requirements. We are not only highly trained, certified, but 100% insured; and we also hold Working With Children Check, so you can make sure, that we can work in every child-related workplaces such as schools, childcare centres or hospitals.
Our team always pay attention to our customers' needs and provide other solutions – if required.
Each service – whether it's about air conditioning service, repairs, maintenance, and installation, or air balancing – is performed with a high level of quality. From professional advice, through design, to installation and afterwards through regular maintenance we can assist our highly valued domestic or commercial customers. That's why you can enjoy our five star air conditioning services in Ashburton.
We offer a prompt response for unexpected air conditioning breakdowns, and 24/7 emergency services for our commercial customers in Ashburton. If you want to keep these downtimes at the minimum, you can choose from our monthly, quarterly, biannually, or annually preventative maintenance plans.
Call us now on 1300 224 223, or alternatively fill out one of our online forms and we will get back to you as soon as possible.
Our commercial services include but not limited to:
Commercial Air Conditioning Installation Ashburton
Commercial Air Conditioning Service and Repair Ashburton
Commercial Air Conditioning Maintenance, Ashburton
Commercial Air Conditioning Preventative Maintenance Ashburton
Commercial Precision Air Conditioning Ashburton
Commercial Ventilation Systems Ashburton
Commercial Air Conditioning Controls Ashburton
Commercial Heating Systems, Hydronic and Underfloor Heaters Ashburton
Commercial Air Balancing Ashburton
Commercial Air Conditioning 24/7 Emergency Services Ashburton

Our residential services include but not limited to:
Split System Air Conditioning Ashburton
Reverse Cycle Air Conditioning Ashburton
Ceiling Cassette Air Conditioning Ashburton
Bulkhead Air Conditioning Ashburton
Evaporative Cooler Ashburton
Ducted Heater Ashburton
Hydronic and Underfloor Heater Ashburton
Ventilation Systems Ashburton

 

For service and maintenance purpose all brands, makes and models are welcome, but we install only technically advanced, high quality systems, such as Daikin, LG, Panasonic, Mitsubishi, Fujitsu … etc. AC Gabe Air Conditioning professionals' goal is to satisfy our customers' air conditioning needs for a long time, and work hard to build long lasting relationship with them.

If you are looking for a best air conditioning service provider in Ashburton, then look no further. Call AC Gabe Air Conditioning on 1300 224 223, our fill out one of our online forms.

AC Gabe specialise in commercial and domestic air conditioning system service, repair and maintenance in Ashburton.